START THE PRESSES Boston's underground press reflect on Boston's underground press
The loss of an alternative institution like the Phoenix is the worst. If there's one positive thing that could happen now, at least the absence of the Phoenix creates an urgency about starting new underground newspapers and zines. In the weeks after the Phoenix folded, I received messages/emails from various different college students in Boston about publications they were trying to start since hearing about the Phoenix. That was cool and heartening. After the Phoenix folded, several people kept saying things like, "someone needs to fill the shoes of the Phoenix," suggesting that some publication needed to step up and be this one big authoritative voice for alternative media in Boston. As much as I loved working at the Phoenix, the idea of needing this "one big voice to emerge" is bullshit. Everyone should go start zines and websites and bask in how awesome it will be for a period of time for alt media in Boston to be decentralized. Go start your own thing. It's your only option right now and in many ways that fucking rules. The Media is only one of what we hope will be several new publications to spring up in the coming months. On that note, it's also an excellent moment to look around at other alternative and underground publications that do already exist in Boston. To celebrate the folks who are already out there working on local progressive news and arts reporting in Boston, we spoke with four of our favorite local alternative publications: the Boston Occupier, the Boston Counter Cultural Compass, Open Media Boston, and Freak Flag. Read everything here; question everything you read.
+ + +



The Boston Occupier started as the newspaper of Occupy Boston, but has outlasted the movement in Dewey Square and continues to publish issues regularly covering grassroots activism, radical politics, and more. The Occupier's co-founder, co-editor of print layout and web master Angie Brandt told us about the paper's origins and aspirations.

CAN YOU TELL US ABOUT THE HISTORY OF THE OCCUPIER? WHAT INSPIRED YOU TO START IT, AND WHAT DRIVES YOU TO CONTINUE WORKING ON IT?

For lack of a better name, and in the same vein of the Occupied Wall St Journal, the Boston Occupier was started as the Occupy Boston Globe by Matt Cloyd and I at Occupy Boston's Dewey Square in October of 2011. Following a Media working group assembly, attendees broke off into groups of various media related projects, with the newspaper being one of those projects. Dan Schneider, our current Managing Editor, joined us two weeks later after growing tired with the Media working group and wanting something he could be more involved with. I had met Matt Cloyd at Dewey Square a couple days prior to the Media working group assembly, and we had gotten to talking about accurate media coverage, or total lack-thereof, in regards to the Occupy movement. We also discussed our dissatisfaction with the OB Media working group and how it seemed to be functioning solely as a PR machine. This was around the time the Occupied Wall St Journal had it's first printing; which we both had mixed feelings about. It was a beautiful paper, don't get me wrong, but it seemed to be functioning as propaganda tool for the movement and not as an actual newspaper (this was later confirmed by Dan after he visited their headquarters sometime around our 3rd print issue). We wanted honest coverage of why people were gathering in protest, and critical reports on what was happening; neither of which were being accurately or fairly covered by mass media or the Media working group, so we decided to start our own paper.

We had our first incarnation of our website up within a week of the first meeting, which was shortly followed by a successful Kickstarter campaign. It was during our first few meetings in South Station where it was decided that in order to be able to provide some objectivity in reporting we needed to be separate from the Occupy Boston Working groups. So, unknown to most, we've actually been independent of Occupy Boston's process this whole time.

Since the occupation of Dewey Square ended in December of 2011, we've continued on as an independent, grassroots journalism effort, expanding our coverage beyond Occupy related issues, and focusing on other organizing efforts, community events, social/economic/environmental issues, local/national/international news. We've also gone through a lot of changes, including most recently the decision to change our name. I continue to do layout, editing, and web work for the Boston Occupier as a form of activism. It's important to cover news stories accurately and fairly without corporate influence, and to also provide a platform for anyone to submit a news story, critique, analysis, or op/ed. We have an open submission policy, our news is really the people's news. We have no corporate sponsors, we're 100% volunteer run. Every issue printed feels like a little victory.

HOW WOULD YOU DESCRIBE THE STATE OF ALTERNATIVE/UNDERGROUND PRESS IN BOSTON? WHAT VOIDS DO YOU THINK NEED TO BE FILLED?

I'd describe the state of alternative/underground press in Boston as in a weird state of limbo and planning. It seems a lot of groups are feeling the pressure to step up and start filling the gaping hole that the Phoenix left in local, arts/music/culture, and investigative reporting. Those are some pretty big shoes to fill. Not many of us smaller outfits have the funding or people power (or in our case even an office) at present to cover everything that the Phoenix was covering. There have been informal talks about combining efforts with other groups-- though I won't name names quite yet. I also think a lot of the artists and musicians are hurting right now from the lack of event promotion and coverage that the Phoenix provided. We've actually been receiving quite a few emails from bands, artists, and filmmakers asking us to cover their shows and screenings.

WHAT ABOUT THE UNDERGROUND/ALTERNATIVE PRESS NATIONALLY?

There needs to be more! Though, I'm not too surprised that there's not. There is a growing trend for alternative news outlets to go for non-profit status-- I think this may be why we haven't seen an abundance of alternative news options nationally. Non-profit status for newspapers is a hard thing to come by, and funding can also be a major hurdle.

WHAT DO YOU READ REGULARLY?

I tune into NPR, read a lot of Mother Jones, YES! Magazine, and my hometown favorite The Stranger (I'm from Seattle).




Freak Flag is a newsprint quarterly covering underground music and culture that published its first issue in 2012. The editors of Freak Flag also regularly organize shows and DJ nights around venues in Cambridge and Boston. We caught up with the paper's co-founder Anya Kanevskaya about her goals for Freak Flag, and the value of a printed paper in a world of "endlessly scrolling Tumblrs" where arts and music coverage lives only a short life before disappearing entirely.

WHAT INSPIRED YOU TO START FREAK FLAG? WHAT DRIVES YOU TO CONTINUE WORKING ON IT?

We dreamt up Freak Flag on the beach in Ipswich two summers ago. I think we were all a little bored, looking for a creative outlet for ourselves, but also looking for a way to show off all the cool stuff we knew our friends were doing but not enough people in this city were seeing. And it was also important for us to make something tangible, because we felt like there was something missing in all art and culture and music disappearing in flashes on people's computer screens. There were a lot of aspects of the art/music blogosphere and endlessly scrolling Tumblrs that kind of had us down. (Not that there's anything wrong with those mediums, because we use them too! Just that it suddenly seemed like everything else was really disappearing.) And, in going through submissions, we got to see a bunch of cool stuff some strangers were doing, too, which was awesome.

Drive is the hardest part, because we're all working our asses off at our full-time jobs, on our shows, and trying to find time to put this all together. It's nuts but it's also the most fulfilling of all the other parts of my day, so you have to find drive in that.

HOW WOULD YOU DESCRIBE THE STATE OF THE ALTERNATIVE/UNDERGROUND PRESS IN BOSTON? WHAT VOIDS NEED TO BE FILLED?

I think there's some amazing stuff happening underground in Boston, press-wise. The compass has been going strong for so long, and they've just expanded, and what they're doing is so valuable to the community and making the scene really thrive.

Voids... um... like in our wallets? We all need more money so that we can stop paying for parts of this out of pocket, or paying bands out of pocket at shows out of the Freak Flag fund! Dream big, I guess.

But if there was something like Freak Flag on a larger scale that was financially viable, and could employ people and keep afloat... we could all die happy I think. On the other hand, seeing The Phoenix fail after all these years makes us pretty pessimistic that us know-nothing's could make it happen "for real."

CAN YOU RECOMMEND SOME UNDERGROUND PUBLICATIONS TO OUR READERS?

Read the Compass obviously, because it always knows what's what. And pick up Mother's News from Providence when you're down there, or they usually have some at Armageddon records in Harvard Sq. It's the best mess of a run on sentence on everything you didn't know you wanted to read about, plus doodles and comics and other cool stuff. It was a huge inspiration for us, everything they do is just freaky and awesome.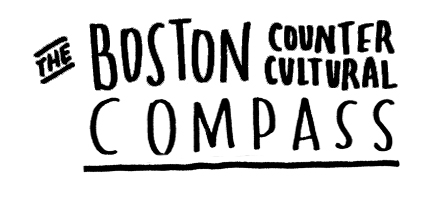 The Boston Counter Cultural Compass is a monthly print-only newspaper covering underground music and culture. It started as a photocopied one-sheet zine in 2010 and now circulates thousands of newsprint papers per month. In just about three years, the Compass has already proved itself to be an indispensable institution of sorts within the local music and arts community here in Boston. In addition, the folks who run the Compass also run the website Boston Hassle and book tons of shows at various venues around town. We spoke with Boston's DIY legend Dan Shea, who is involved in all of these entities.

HOW DID YOU START THE COMPASS & HASSLE? WHAT INSPIRED YOU TO START IT?

The Compass was started by my friend and co-conspirator Sam Potrykus in or around 2009. I've been involved since the beginning but Sam truly birthed it into the world. It has grown from a 1 sided 8 1/2 x 11 show rundown to a soon to be 8 page printed arts and music newspaper. I had been organizing shows since the early 2000s and Sam and I began booking shows together around the same time the Compass started. We decided to formalize our collaboration as the Boston Hassle a couple of years ago. The Boston Hassle organization (which encompasses the BH website, the Compass, and BH shows) is currently awaiting a decision on its nonprofit tax exempt status. We have an initial goal of opening up a not-for-profit arts and performance space in the Boston area, and we have larger goals beyond that. We are driven by a want for Boston to be known as a world-class city in creating and fostering musicians and also as a place for touring artists to visit and be appreciated.

HOW WOULD YOU DESCRIBE THE STATE OF ALTERNATIVE/UNDERGROUND PRESS IN BOSTON? WHAT VOIDS NEED TO BE FILLED?

I would describe it as poor but improving. I grew up with the Phoenix but as I became more involved with the arts and music community here in the Boston area I began to realize how far apart that paper really was from what was happening in the city. The papers that remain do little better at the task. There are actually alternative/underground newspapers in these United States that are most interested in what people in the city they are covering are doing and making. IF YOU CAN BELIEVE IT.

WHAT ABOUT THE UNDERGROUND PRESS NATIONALLY?

I do know that I've come into contact with great smaller papers akin to the Compass based out of the the Northwest, NYC, Toronto, and of course Mother's News out of Providence. Blog culture has given the opportunity for representative voices to pop up wherever someone cares enough to make it happen. I think that's what we are doing here and I'm sure it's happening elsewhere. Nashville has a great underground music/local-centric site. I'm sure there's plenty of others as well and I wish I had the time to find them and read them.

WHAT DO YOU READ REGULARLY?

I read Arthur, and WIRE when I can. And Mother's News is unparalleled. I also think Tiny Mix Tapes is a great site. I have to spend more time listening to music and digesting then reading about it honestly.




Open Media Boston is a progressive news site started around 2007. The publication describes itself as "audience-centered" and solicits submissions from the general public "while maintaining professional journalistic standards at all times." Below is our interview with the website's founder Jason Pramas.

CAN YOU TELL ME ABOUT THE HISTORY OF OPEN MEDIA BOSTON?

I founded Open Media Boston because there were lots of things that get little coverage in our city - mostly things involving working-class communities. Around 2007, I thought there was need for a news weekly with a left-wing editorial stance that would expand coverage of those communities. So I started one in March 2008 using available social media technology to launch on the cheap. I continue working on OMB because our audience has grown slowly but steadily over our five plus years of continuous publication, and I feel like we're having a positive effect. Seems like a a good enough reason to keep moving forward.

HOW WOULD YOU DESCRIBE THE STATE OF ALTERNATIVE MEDIA IN BOSTON?

Well, both alternative press and underground press are old appellations that refer to news movements past. The former grew out of the latter. The Phoenix was the main representative of the old alternative press hereabouts (after the Real Paper went under in 1981), and it's gone. So that's a big void to fill right there. The underground press of the 60s and early 70s is long gone. Street Magazine, that I worked on 1986-1987, was probably the last vestige of that press in Boston, and basically folded at that time. As far as the independent press goes, we have a pretty healthy ecology of small to medium sized independent weeklies. Although they're all over the road politically and in terms of quality. And there is definitely not "one independent publication to rule them all" now that the Phoenix is gone.

WHAT ABOUT NATIONALLY?

Same thing. The entity that took the Village Voice's name owns most of what's left of the alternative press in the US, and most of the remnant alternative papers with print operations are on their last legs. The underground press is dead. The echoes of the underground press, like Indymedia, are also mostly gone. There are plenty of outlets that think they are underground press, but they're not. Much of the remnant alternative press and some of the independent cultural press likes to drape themselves in the cloak of the old underground press ("we're like Hunter Thompson!" ... no you're not, shut the fuck up), but it's all posturing. That press was the product of a particular culture at a particular time in history. That culture and that age are over. So that's that.

CAN YOU DESCRIBE YOUR "MEDIA DIET"? WHAT DO YOU READ REGULARLY?

I can no longer answer that question - beyond the fact that I still read Boston.com daily (a.k.a, the Globe). Like many other people these days I'm largely agnostic in terms of what outlets I check out regularly. Basically whatever pops up on my social media presence. It's all about what's going on day-to-day, and my ability as a trained journalist to extract the information I need from whoever is covering those goings on - irrespective of quality. Not so much about those apocryphal handful of publications that I'd want on a desert island with me.